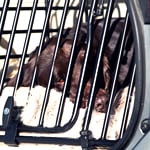 When selecting a vehicle for your canine companion, several criteria exist. A dog-friendly vehicle should be comfortable, safe, and secure for you and your pup. Comfort is critical: ensure the car has enough space for you to share and adequate ventilation to keep your pup cool on hot summer days in Shelburne, VT.
Safety is also essential when it comes to choosing a dog-friendly vehicle. Look for features such as airbags that won't injure your pet in an accident and non-slip surfaces so they can stay secure during turns or sudden stops. Consider investing in canine seat belts and harnesses that attach directly to your car's seatbelt system so that you can drive with peace of mind.
Finally, make sure the car is secure enough to keep your pup from escaping and running away. Make sure all doors and windows are securely shut before leaving the vehicle, and consider installing a pet barrier at the back seat to prevent any escape attempts.